Myanmar American Musical Arts Society Opening Event

Melodies of the Century

August 29, 2010

Academy Zaw Myo Htut (Left)
Legendary Myanmar Singer Khin Maung Toe (Right)
at "Khin Maung Toe and Musical Evening" in San Francisco on Jan 21, 2012

၁၃၇၃ ခုႏွစ္

နယူးေယာက္ ျမန္မာ မိသားစု သၾကၤန္

ႏွင္းေဟမာ (ျမန္မာအက) ႏွင့္ ေတးသံရွင္ ရတနာဦး

Mr. Kurt Campbell, Assistant Secretary of State and the architect of the Myanmar Democracy reform

Dr. Zaw Min Oo, the President of the Myanmar American Musical Arts Society

the 65th anniversary of the Independence Day of the Republic of the Union of Myanmar

စႏၵရားေအာင္၀င္း ႏွင့္ နီနီ၀င္းေရႊ

ျမန္မာ အေမရိကန္ ဂီတအႏုပညာအသင္း

တတိယႏွစ္ မိတ္ဆံုစားပြဲတြင္ ေဖ်ာ္ေျဖေနစဥ္ (Dec 30, 2012)

Myanmar Traditional Dance by Hnin Haymar

at

"Khin Maung Toe and Musical Evening" in San Francisco on Jan 21, 2012

Myanmar Traditional Dance by Maung Maung Myint Swe

Myanmar American Musical Arts Society performed

Myanmar traditional dance on Buddha Day at United Nation, New York in 2010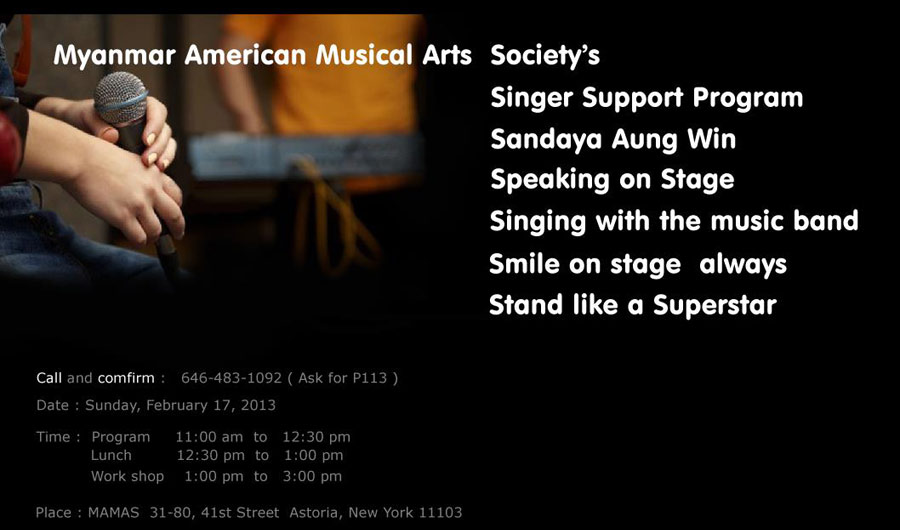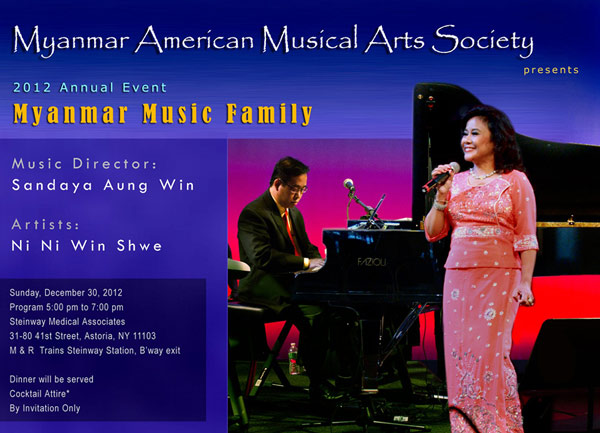 Myanmar American Medical Education Society
2010 Annual Gala Dinner on December 18, 2010
Please click on image to see photo gallery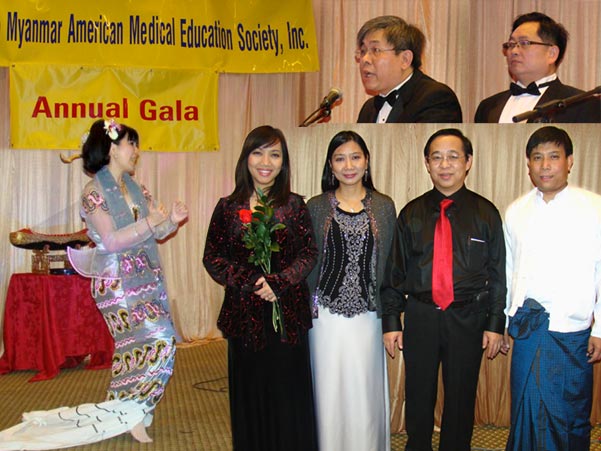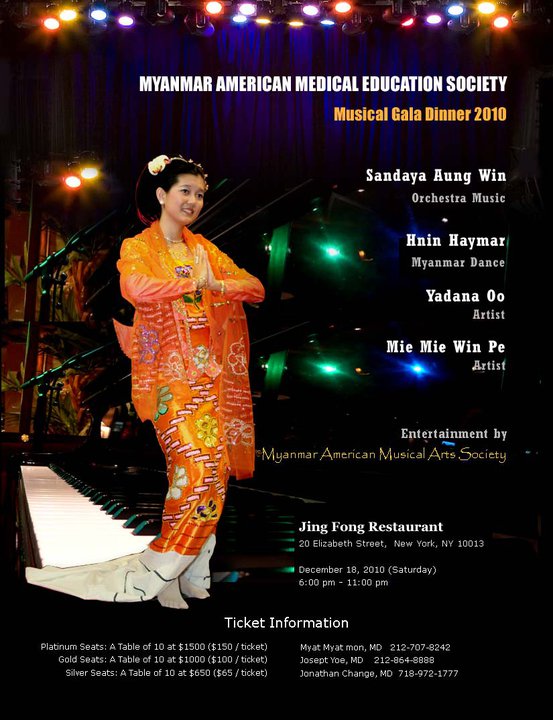 ---
Myanmar American Musical Arts Society
Opening ceremony and fundraising events feature
Melodies of the Century, music by Sandaya Aung Win and Yadana Oo, dance by Hnin Haymar,
presented by Dr. Zaw Min Oo, president of Myanmar American Musical Arts Society, New York.
Myanmar American Musical Arts Society


provides enriching Myanmar musical experiences for people of all ages and abilities.



This society was founded in 2010 by a group of Myanmar Americans to promote our Myanmar culture and arts and educate the masses of our heritage through Myanmar music. We can distinguish ourselves as Myanmar Americans rather than a relatively unknown part of Asian Americans in the United States by exhibiting our culture's music and dance. We believe that Myanmar music is representative of the Myanmar-American heritage, and it is important for us to maintain and promote Myanmar music especially its continued existence for future generations.
The founders of the society believe the art of music and dance is an international language. Even vocal music, despite its language barrier, can relate to the audience through the many emotions evoked from the numerous components of a song. Therefore, the society will not only focus on Myanmar American artists, but is also willing to promote any musicians who wish to perform Myanmar musical arts. The society is proud to help bridge the gap between Myanmar music and contemporary music.
Due to the growing interest in Myanmar music and culture internationally at present time, the society is organizing the talented Myanmar artists and Myanmar music lovers to fulfill the needs.
There are many instruments created by ancient Myanmar natives more than hundreds of years ago such as Myanmar Harp, Myanmar Xylophone, Drum Circus, Myanmar flute, and Brass Gongs. For example, there are only two to three Myanmar flutists are alive at present time. If no one is able to learn to play the Myanmar flute or the other Myanmar instruments, it will very soon become a lost art form.

Currently, there are very small numbers of talented Myanmar musicians and traditional dancers left in Myanmar. Out of those artists, most of them are aging and few are actively performing to maintain Myanmar music and traditional dance.

Myanmar traditional musicians, especially retired musicians, have difficulty supporting themselves in Myanmar. Our society will donate to these artists with needs. The society will works hard to accomplish its mission with your enthusiastic support.

Myanmar American Musical Society performed Myanmar traditional dance on Buddha Day at United Nation, New York

(Click on image to see large video)



Mission Statements


Purpose of Myanmar American Musical Arts Society



1. To promote Myanmar music and traditional dance in the United States, and eventually internationally.

2. To provide opportunities for recognition of outstanding Myanmar musicians in the United States.

3. To encourage young Myanmar American artists to prevent the loss of traditional Myanmar music and dance.

4. To share our culture through our distinguishing music and dance.

5. To lobby for stronger copyrights protection for music artists in Myanmar.


---
---